Nonohara Zakura


Also Known As
Nono-chi
Gender
Female
Age
15
Birthday
February 16th
Eye Color
Brown
Hair Color
Pink
Idol Status
Status
Idol
Type
Cool-Cute
Brand
To Be Announced
Friends and Family
Anime Information
Anime
Pripara: Jump For Joy~
Role
Protagonist
Creator
Hitorihiari
 Nonohara is the main character of Pripara: Jump For Joy~ . It is currently under developement.
Her main brand is currently unknown so she uses Twinkle Ribbon.
Her voice actor is Saitou Chiwa while her singing voice actor is Etsuko Yakushimaru.
Personality
Edit
After the 6th grade, Nonohara became an 15-year-old girl who always seems tired. In normal speech, she uses a lot of "…" and acts very withdrawn and slightly cold, and her only interests seeming to be games and sleeping. Because of a certain event, she never goes to school anymore and spends on her time online. But even when she's not near a computer, she's sure to be playing games on her cellphone. She has a huge interest in Lolita and is often shown leaving her home to go to one of those meet ups.

Whenever she gets into her idol activities or changes into her idol outfit, she changes spectacularly. She 'switches' into a super-energetic, passionate idol who gives it every ounce of strength she has, often saying "kyunkyun~" to fire herself and others up. She always talks in a fancy way, referring to herself in third person and acts like a cheerful and innocent princess that is often oblivious to the world.
However, all of this personality changes whenever she is in the same room of Ai Kawakami. She changes into a cold and emotionless person who will stop at nothing to come out on top of this 5 year battle.
Relations
Edit
Chika Nakanishi- Chika is somewhat of an mentor to Nonohara who has no experience in the idol world.
Ai Kawakami- Childhood friend turned enemy.
TBA
Ao no Parade (duet with Chika)
TBA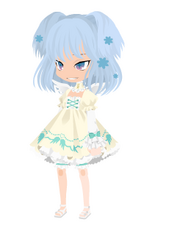 She wears glasses from sitting in front of the television all night long.
She loves sour cream and onion chips.
She really doesn't like her voice because it's so high pitched.
Ad blocker interference detected!
Wikia is a free-to-use site that makes money from advertising. We have a modified experience for viewers using ad blockers

Wikia is not accessible if you've made further modifications. Remove the custom ad blocker rule(s) and the page will load as expected.